Today I'm 40 years old. Holy cr@p.
I'm not sure why the number is stressing me out so much because I know I can pass for late 20s - or so I like to tell myself LOL. I did get carded at the bar at the last wedding I went to :) When I was younger I used to think I would have taken over the world by 40. Not sure what happened.
I popped into Sephora this week to pick up my free Beauty Insider birthday gift. This year it's a Make Up For Ever mini mascara and lipstick. I also stopped in to Ulta to get my free gift there too but for some reason they have me down with a January birthday so I had to call customer service to update my info (so they can send me an email with the code for the gift). I think it's just a CK mascara anyway.
Birthday swag
I didn't buy myself a birthday present per se this year because I've treated myself to a few goodies along the way :) Other than a designer clutch, which I'm sure will eventually turn up at the Rack or thrift store, I'm not really wanting for anything right now. Note to husband - this is NOT permission to show up empty handed for my birthday.
While I was at the Mall visiting Sephora I popped into Neiman Marcus to check on things. No new Chanel finds (for now) and designer shoes are now 55% - and they said that was it for markdowns :(
I took pics of all the CLs they had left in bigger sizes. Even at just 55% off, I'm sure they're all gone by now. You can always call NM in Paramus and check.
I also spotted this cute Milly skirt (not on sale).
Love the color combo!
Do people really pay full price?
If you're hunting for designer bags or shoes, Saks went to 70% off but I've been good and didn't buy anything. I figure if G-d really wants me to have another pair of Louboutins, he'll send me a pair at the Rack.
On a happy note, there were tons of markdowns at the Rack this week. The other day I posted my receipt...
If my calculations are correct I saved over 90% LOL. Several of you have asked what I got. A little of this and a little of that...but here are my faves :)
I keep buying things in this shade of neon yellow...
$15 Rag & Bone refurb sweater
I'd been eyeing this Alexander Wang cropped vest for months so when it dropped to $39 from $475 I grabbed it - even though it's two sizes too big. I used to wear a lot of tiny vests and bustiers back in the day...
You want to know what's cuter than this Vince Camuto dress? The price!
5 bucks baby!
Yesterday I popped in and they had a bunch of refurbs but it was mostly bridge stuff - no designer :( But I did score this adorable Rebecca Minkoff mini MAC for just $35!
I couldn't resist this lil cutie!
Now that the Anniversary Sale has started at Nordstrom, they shipped all the sale stuff to the Racks. Keep your eyes open because good stuff has been coming in! I spotted Alex and Ani bracelets for just $15, and tons of Burberry kids shoes for $70 - I'll be watching those shoes for markdowns :)
Burberry!
All Burberry shoes and boots were priced $69.97
I die!
Last but not least, I saw this and couldn't help but smile.
How me is this? If it said Rack Girl it would have come home with me :)
*****************
I thought TJ Maxx would go to yellow sticker clearance this week but it didn't. Maybe next week.
(ETA- I heard they had another round of markdowns yesterday. I'll be investigating today.)
I did grab this interesting Rebecca Minkoff ring for just $12.99!
One of my old high school friends basically called it fashion roadkill but I like how organic it looks. They actually had a whole display of Rebecca Minkoff jewelry marked super cheap.
*****************
H&M upped the ante this week - now their sale stuff is buy 2 get 1 free. Last sale it went to buy 1 get 1 free...we'll see what happens :)
*****************
Last weekend we threw a party for my niece's bat mitzvah. She lives out of the country and I don't think I've seen her in 4 years? We chat often and I was really looking forward to seeing her. I wasn't allowed to take her shopping (let's not get into that...) but I still got to play dress up with her - just like I used to do with her mom (my baby sis).
She wanted to straighten her hair but my other sister couldn't find her flat iron - luckily I had my trusty hot curlers. When we were done she thought her hair looked like a wig LOL. I told her it was because people pay to have hair like hers. All she needed was some concealer (pre-teen acne) and some lip gloss and we were good to go.
My niece, Eli
I don't remember looking so put together at 12. When did she turn into a person, let alone a woman??? She has a real figure now. I really wanted to put her in color but everything I found was black. It was either this or a black dress and I figured she'd get a lot more use out of the skirt. I actually got a cute chiffon crop top with a beaded collar to wear over this top (which was mine but for some reason she didn't own a black top) but my sister didn't tell me how skinny she got - and the beaded top was too big. My sister also gave me the wrong shoe size so most of the shoes I picked up were too small. FYI she's a 9/9.5 (like me) now. One pair of peach gladiator sandals (Nordstrom Rack, $14) fit but she had to take them off mid-party because she was so bitten up and her legs were irritated - so she had to switch to flip flops. Considering I hadn't seen her in years (and even her own mom didn't seem to know what size she was) and my instructions were keep it modest with nothing too tight, I think we did OK. Not my best work but she was happy.
Details:
Target 70% off gold plated earrings $7.99
Ariella necklace, Nordstrom Rack $7.49
Gerard Yosca floral bracelet, sample sale $3 - stacked with her gold bracelet from her late Grandmother
My other sister took her for a mani that morning :)
Top -
Kosher Casuals black layering shell
from my closet (now hers) $14. It's lightweight and I like that it cuts above the elbow unlike most modest shells.
Skirt - Free People pleated black lace skirt with leather waistband, $30 Nordstrom Rack
My mom managed to pack in every childhood birthday wish and want Eli ever had - there was a pinata, Carvel cake, trampoline...my kids were in heaven.
Love you Eli! Miss you already!
*****************
I still have the Jimmy Choos, Fendis and Valentinos from the last blog sale. The Philip Lim dress is also available as well. I finally opened
shoppinggalscloset
on Instagram and I'll be posting my extras for sale here and there for now on :)
I picked up these refurb size 9 Tory Burch flip flops for myself but I decided I really don't need them. Asking $50 shipped in the US. PM me on my
Facebook
page if you're interested.
*****************
And finally, yesterday I went to the Wacoal factory outlet sale at 50 Polito Ave, Lyndhurst, NJ. I'm obsessed with their
ipant shapers
and I was hoping to get some on the cheap. It's the perfect shaper - so comfortable, smooths everything perfectly and stays in place. I called a couple months ago and asked to be put on the mailing list and for some reason I never got a card :( Luckily I called this week and found out it was already on. When I got there they were sold out of the shaper I wanted (black or the mid-thigh version) so I took a different one. Their pricing is 60% off retail, plus a bargain bin where everything is $5 or less. My well endowed SIL just asked for new bras so lucky her when I found a couple of these babies in exactly her size :)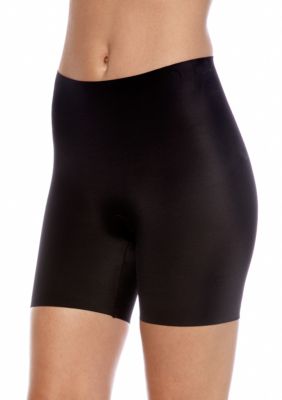 I wanted the shorter version in black...
I got the longer leg one in nude.
For V - she loves patterned bras :)
I also grabbed a couple $5 basic nude bras for myself but next sale I plan on being there the first day to stock up. The are open to the public only 2x a year and today is the last day - and they close at 5 PM so if you're a Wacoal fan and you live nearby it's worth a look.
Have a great weekend! It's my birthday so I'm hoping I will too :)
-Shoppinggal