Happy Memorial Day Weekend! That means it's time to start thinking about swimwear. Personally I'm a bikini girl. I rocked them for all three pregnancies too :) Even at my heaviest I still had a defined waist so bikinis worked better for me (with a strategically placed cover up) than a tankini, and frankly I have not worn a one-piece since I was 12. Unless you're on a swim team, let's face it, most one-pieces are for the elderly or babies. I actually cringe every time I see someone wearing a one-piece when they shouldn't. This applies to a few people I know so if you're an offender, yeah, I'm talking to you!
For years I had a ritual that just before my birthday (7/11) I would run to Loehmann's and get a new birthday bikini using my birthday discount. As my birthday approaches...and a pool party this weekend...I hit the stores this week to see what I could find.
With Loehmann's out of business, I've been shopping for swimwear in Marshalls and TJ Maxx. The trick is to shop off season when items are marked lower - plus you typically have more of a selection. I headed first to my local stores and they were already a pretty picked over. Last year I noticed that H&M cuts their bikini tops by cup size and I was very tempted to buy. Unfortunately I was at my heaviest and didn't hit the pool too many times last summer. I managed with what I had and promised myself some new pieces when I lost the weight. I'm down a good 20+ lbs from then so it's most definitely time to buy :)
In the "olden" days (ie 10-15 years ago) if you were a larger than a B cup you typically had to head to a specialty store to find a swim top. Luckily for me I was a 34B until I had my kids and could easily shop just about anywhere. I had well endowed friends and family who easily spent $50-100 on a suit, whereas I could easily grab a discounted designer one for 20 bucks or less. Now, thanks to H&M I can get a great designer inspired bikini (that fits) for less than $10!
I went to H&M looking for a top as close to a bra as possible LOL. I'm down to a 34D (they got bigger when I did) so I need a little support these days. As an almost 40 year old, gone are the days I can go braless. No more flimsy, strappy triangle bikini tops for me - I need wide straps and an underwire LOL. I've always liked having small breasts but as long as I have these bigger ones, I'm going to put them to use. You just have to make sure they are in the right place, KWIM.
I noticed this cute patterned studded
top
a few weeks ago for $9.95. In-store (not online) at H&M right now it's a "fashion find" and marked down to $4.95 - as is the
bottom
! It has shaped cups (no crazy Victoria's Secret padding) and an underwire. Unfortunately it ties in the back and the top so it's not as supportive as I would like but for five bucks you can't go wrong. They have it in sizes 34A thru 38D. (Some styles cut from 32A all the way up to an 36E cup.) I got this top to wear with my black skirted bottom I already have and probably should go try on - hopefully it's not too big.
close up detail of pattern and studs
My JAG swim skirt is pretty similar to this one; slight a-line, built in panty, not too short and I'm pretty sure it was $10 at Marshalls a couple years ago. If you need one in a hurry you can grab
this one
for $37.50 at Bonton.com.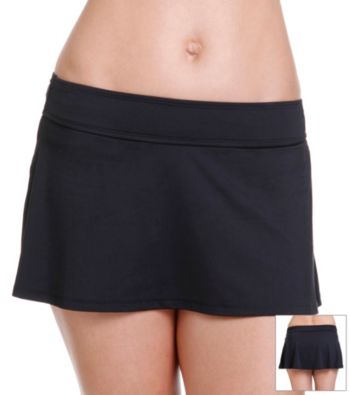 The set also comes in
brown
(which I prefer) but I figured the black and white pattern would match my black swim skirt better.
I also grabbed a second top in neon pink that has a ruched cup and fits like a glove. Somehow this shade of pink even makes me look tan. It ties at the neck too but it does clasp at the back like a bra for a better fit. It's not available online yet and it was $17.95 but with the 20% off a single, full-price item coupon from my mall office (I collect the coupon booklets several times a week LOL) it was less than $15. The fit is similar to this white
top
which I also tried on. I would have grabbed it in-store but it's full price there (it's only a "fashion find" online and then you have to pay $5.95 shipping) and you can't return online items to the store for some reason. Stupid policy.
My new tops. Pink looks less orange-y IRL.
White top also has a great fit, underwire, and no extra padding (just shaped). Available in sizes 34A thru 38D. FYI - don't get this top in the green, it cut small.
I also got this $12.95
dress
and this $19.95
necklace
this week (both 20% less with my coupon LOL).
A little sheer but not too bad.
I haven't worn a necklace like this in years but it's so striking on.
I still may return my $5 top (my pink one is really much better) but I'll decide after the weekend.
*****************
Clear the Rack started today at Nordstrom Rack and even though I didn't need anything, it's always worth a peek when they offer an extra 25% off clearance items.
I picked up a few odds and ends in the jewelry department - all $3-16 pre-tax, after discount. I seem to be finding a lot of inexpensive jewelry lately. I really love the Robert Rose earrings but they are a little heavy for me so they may need to go back :(
My best find was probably my refurbished Choos :) For $229.97 I wouldn't have bothered but they got me with that extra 25% off. No tax in NJ so these Jimmy Choo "Crowns" were just $172.48. Jimmy Choo decided not to do a sample sale this year (Boo!) so they weren't as great as my $90 deals from last year, but still pretty good.
Jimmy Choo Crown open toe pumps, retail $695
Don't bother calling - you can't track a refurbished item :(
Stock photo
I did spot this Herve Leger bolero for just $150 (retail $990) after discount but I passed. You can call the Bergen Rack and have it shipped for $9 if you want it. I left it on the designer rounder in the back.
*****************
Some of my other finds this week included these Judith Jack sterling silver earring for $30 from $150. I didn't think they would make it to Clear the Rack so I grabbed them.
I also scored these beautiful Argento Vivo sterling silver earring (I'm guessing they are gold-plated) from TJ Maxx for just under $20. Too bad I couldn't find my $20 reward or they would have been free. I'm not sure what kind of stone this is but the mint color sets off my hazel eyes perfectly :)
And that's all folks - have a great weekend! Be sure to check out Clear the Rack, now thru Sunday :)
-Shoppinggal