It's that time again :) I've had a few things on Ebay (or just around my house LOL) so I decided to put them up here for a little more than cost before I bother (re)listing them.
Prices are for local pickup in NY/NJ. If you have paypal with a confirmed address I can ship to anywhere in the US (outside of the US for close friends/family ONLY) for my price plus exact shipping and paypal fees. If you're interested post here or message me on my
ShoppinggalNYC
Facebook page. Close friends and family get first dibs - otherwise this sale is open to the public. My only requirement is that you post a mod shot of yourself with your new bargain on my Facebook page.
So let's begin...
I picked up a couple extra Peter Pilotto for Target totes - this was one of my favorite pieces in the collection. I plan on using mine for a beach tote this summer if the weather ever decides to warm up around here. Retail $39.99, currently available on Target.com for $27.98 - I got 'em for you for just $17.
NWT Peter Pilotto for Target tote $17 - 1 SOLD
I have this NWT Peter Pilotto dress in size 6. The original retail was $44.99 and it's on the Target website for $31.48 - get mine for just $17. It's cute but the hi-low hem is too just short in the front for me (I'm high-waisted with long legs and it shows way too much, which is really a shame because it's a great cut otherwise).
RETURNED Peter Pilotto for Target dress size 6 $17
Note - Target pulled all the Peter Pilotto from their stores so now your only options are Target.com or Ebay. Time is running out if you have an ISO!
All of the following sunglasses are brand new and unworn but were on display and tried on before I purchased them. No real flaws but If you're looking for pristine these may not be for you. I decided to keep 5 pairs and I've been selling the rest to friends and family. Any damaged pairs were returned - I have no interest in selling a dud. As my many recipients can attest these are in great shape - but they are not perfect like from a department store - think more like a great TJ Maxx find :) I'm using stock pics - LMK if you need to see a IRL pic.
Brand new pair of authentic Marc Jacobs women's tortoise shell sunglasses - MJ 396/S Dark Havanna brown sunglasses with grey gradient lenses.
I got these a while back at the Century21 sale and they are a little too big for my face.
Cute bows on the arm :) I'm including a Marc by Marc Jacobs case with them. Size is 56/18/125. Retail is over $300 and the cheapest I've seen them online is around $200 - get these for just $40!
Pic removed
Brand new pair of authentic Just Cavalli wayfarer sunglasses for women. I also got these at the C21 sale and I really like these but I edited down to just 5 new pairs and these were number 6. Comes with Just Cavalli case and cleaning cloth. Just Cavalli offers a line of designer eyewear brought to you by Italian fashion designer Roberto Cavalli. Just Cavalli JC501S is a Full Rim frame for Women, which is made of Acetate & Metal. The lenses offer sun glare reduction and UV protection. Size 54/18/140. This model is color 05W, Black/Blue Gradient - black with a fun blue denim print accent. Retails for over $150 - get these for just $30!
Pic removed
Brand new pair of authentic 3.1 Phillip Lim women's Felipe red metal aviator sunglasses - comes complete with Phillip Lim case and protective pouch (pictured). 100% UVA/UVB protection. Size is 67/11/130. These retailed for about $250 - get these for just $35.
SOLD 3.1 Phllip Lim Felipe sunglasses $35
SOLD Carerra unisex sunglasses $25
Remember this Rebecca Minkoff large watersnake crossbody box bag? I was able to score a second for you guys! Retail $350, asking $100. It's brand new without RM tags (just Nordstrom price tag) and it comes with RM dustbag and cards. A couple tiny faint scratches but nothing serious (I like to mention everything).
New Rebecca Minkoff large watersnake crossbody box bag
Here is a stock mod pic of the bag in white so you can get a better idea of the size. Super light which is unusual for a RM bag. Very chic and I can think of a few purple lovers out there :)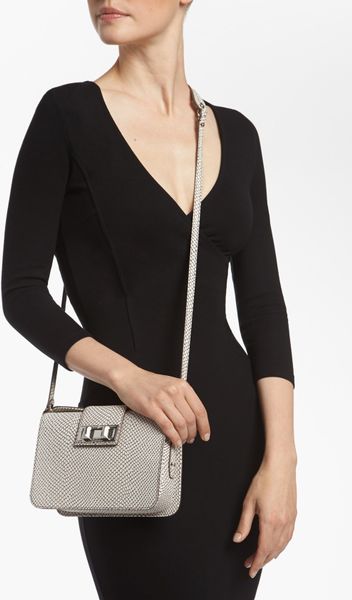 That's it for today. LMK if you want anything!
*******************
And now we begin with my bargains of the week.
Target marked down their Easter clearance to 70% off - 50% off candy. I filled up a cart of odds and ends :) When things hit 90% I clear the shelves. Hoping that happens on Friday...I'll be checking in the morning!
ETA 4/25 - It hit 90% off today! Candy is still 50% off for some reason. I posted a pic of my cart on Instagram this morning. Follow me there is you don't want to miss my latest deals!
Can you tell my 5 yr old is obsessed with stuffed animals?
I also popped into the mall to buy the dress I've been watching since January at JC Penney. The retail was $70 and for some reason it was not getting marked down. When I noticed it missing from the website I knew it was time to buy. Fortunately there was a coupon you could print for an extra 25% off (expired yesterday, sorry guys) women's clearance. It was $34.99 and with the extra 25% off it was around $26. I was sure I would need the small but when I tried it on it wasn't as formfitting as I would like so I took the XS - which shockingly does not cut in and holds me in where I need it :)
Allen B dress from JC Penney, $26
I couldn't be there and not check in at Chanel in Neiman Marcus :) As I was walking through I noticed this cute floral dress - and I should have known it was Tracy Reese. I love her.
Not sure about their shoe choice...
And no, I didn't get anything at Chanel. Maybe next time...
It's been a while since I visited Century 21 and it was a good thing I stopped by today. Those little red signs are starting to pop up throughout the store!
I spotted the cutest Mes
Demoiselles tired skirt for $120. It's been warming up around here so I've started looking for spring-y pieces to add to my wardrobe. I went to my thrift store to see if I could find anything similar to this lovely, and I filled up my cart with cheap Armani, Jill Stuart, Michael Kors and Alice & Olivia but nothing worked for me :(
\
Here is the tag, if you're interested in tracking it down :)
*******************
Mother's day is just around the corner, as is my 40th birthday, so I've compiled my wishlist (I know DH reads my blog just to see what I'm up to LOL). I would love a Birkin but these are far more realistic. I guess I would also love a new diamond wedding band but that can wait for my anniversary :)
*******************
Last but not least, yesterday I stopped by Carvel for Wednesday is Sunday (buy one sundae get one free) and I spotted this sign :) Free Carvel junior cones on Thursday, May 1st from 3-8 PM. I love free ice cream season!
Free Carvel cones on Thursday, May 1st from 3-8 PM
As always, happy shopping!
Shoppinggal
:)